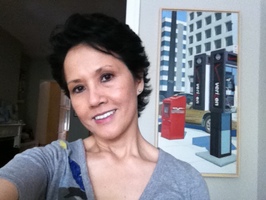 Joey P. Mánlapaz in front of "Hitched" (Oil on linen; 42" x 20") at her Capitol Hill studio.
Joey P. Mánlapaz
Joey P. Mánlapaz, is an accomplished contemporary realist painter recognized for her multifaceted roles as painter, educator, curator and juror of art exhibitions, and advocate for the elderly through art. She holds a Master of Fine Arts degree from the George Washington University and is widely acclaimed for her depiction of the ever-changing landscape of Washington, DC, where she resides and holds a studio. The nation's capital, by far the largest collector of her work, owns 43 of her paintings and prints.
In the artist's realistic portrayal of the urban landscape, Mánlapaz aims to bridge the intersection of Richard Estes' objective photorealism and Edward Hopper's profound psychological sensibility. The atmosphere inhabiting her paintings carries a distinct infusion of Alfred Hitchcock's suspenseful mystery, evident in the surreal air, saturated color, and contrasting interplay of light and shadow.
Mánlapaz is recipient of numerous commissions, grants, and fellowships, including the prestigious 2003 National Book Festival commission from the U.S. Library of Congress and First Lady Laura Bush. Her paintings are showcased in galleries and museums in the U.S. and abroad. Notably, her papers, correspondence, and sketchbooks are housed in the U.S. Library of Congress Asian American and Pacific Islander Division. A replica of one of her paintings is permanently installed in the Bethesda Metro Tunnel in Maryland. She frequently serves as juror and curator of local and regional art competitions and exhibitions.
When not at the easel, Mánlapaz finds joy in conducting art workshops for older adults at assisted living and memory care facilities, such as Forest Hills of DC and Charles E. Smith Life Communities in Rockville, Maryland. She serves as Faculty at George Mason University in Fairfax, Virginia and as lecturer at The Art League in Alexandria, Virginia. She shares her Capitol Hill studio with her beloved dog Bella. To explore her portfolio, visit joeymanlapaz.com; instagram.com/joey.p.manlapaz; facebook.com/joey.manlapaz