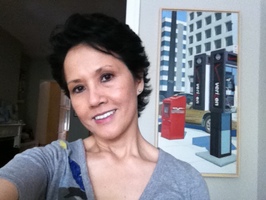 Joey P. Mánlapaz in front of "Hitched" (Oil on linen; 42" x 20") at her Capitol Hill studio.
Joey P. Mánlapaz
Joey P. Mánlapaz (MFA, George Washington University) is a contemporary realist painter, avid educator, compassionate art provider for the older community, noted curator and juror all rolled into one. She lives and works in Washington, DC, the main subject of her canvases, which are widely recognized and collected, most notably by the nation's capital that owns 43 paintings and prints.
The artist is recipient of commissions, grants, and fellowships in support of her work. The U.S. Library of Congress and First Lady Laura Bush commissioned the artist for the coveted 2003 National Book Festival. Her paintings have been shown at nationwide galleries and museums, notably at the Corcoran Gallery of Art. Her papers, correspondence and sketchbooks are in the collection of the U.S. Library of Congress Asian American and Pacific Islander Division. A replica of her painting is installed permanently at the Bethesda Metro Tunnel in Maryland.
Mánlapaz's ongoing fascination for and concentration on the city of Washington as subject matter was influenced by the late painter Frank Wright, her mentor renowned for his depictions of 18th-19th century architecture of downtown DC. In her realist renditions, she examines the relationship between the factual photorealism of Richard Estes and the deep psychological sensibility of Edward Hopper, and attempts to bridge the two concepts to achieve a painterly style peppered with a generous dose of Alfred Hitchcock's suspenseful thrill.
Born in Quezon City, Philippines and raised in metro-DC, Joey P. Mánlapaz attended the George Washington University earning a Bachelor of the Arts degree in Fine Arts and Zoology (Pre-Medicine) and subsequently a Master of Fine Arts Degree in Painting. When not at her easel, Mánlapaz is next happiest offering art workshops to older adults at assisted living and memory care facilities at Forest Hills of DC and Charles E. Smith Life Communities.
Her paintings are widely collected in the U.S. and internationally by private and corporate art collectors, including Akridge (DC), Arnold & Porter LLP (DC), Ayala Corporation (Manila), Ballard Spahr Andrews & Ingersoll LLP (DC), Cato Institute (DC), Citizens Bank (VA), Clark Enterprises (MD), Mr & Mrs Bill Cosby, DC Commission on the Arts & Humanities, Deloitte & Touche USA LLP (DC), ING Clarion (DC), the Honorable late Senator Daniel Inouye (HI), International Union of Operating Engineers (DC), Melrose Castle (VA), Metlife (DC), Ministry of Justice (Manila), The Monocle Restaurant (DC), National Association of Home Builders (DC), Mr Mel Odilao (DC), ORIX Development Group (IL), Honorable Associate Judge Heidi M. Pasichow (DC), Pritchard Satellite Communications (MD), Reed Smith Shaw & McClay LLP (DC), Shapiro Lifschitz & Schram, P.C. (DC), Sidley & Austin LLP (IL), Superior Court of the District of Columbia, U.S. Library of Congress, U.S. Navy, U.S. Nuclear Regulatory Commission (MD), U.S. State Department, White & Case LLP (DC), and Wiley Rein & Fielding LLP (DC), to name a few.
The artist is Associate Faculty at the Corcoran School of Art & Design at George Washington University and Lecturer at The Art League (Alexandria, Virginia). She shares her studio on Capitol Hill with her dog Bella. Her portfolio may be accessed at
www.joeymanlapaz.com
;
www.instagram.com/joey.p.manlapaz
.